Sidebar
Autumn Trout Fly Fishing Tips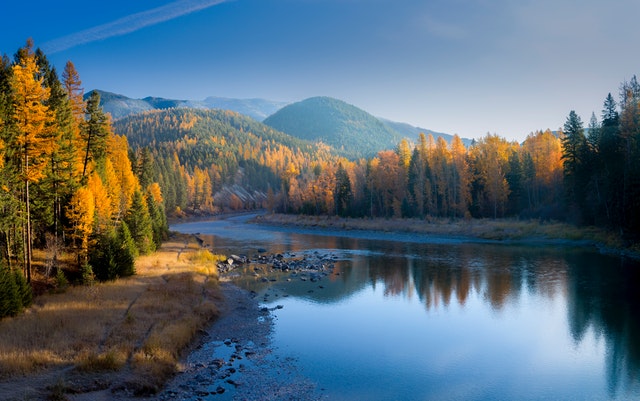 The hot and humid days of the summer are behind us. Autumn is here. It's really my favorite time of year. I love the warm days and the cool nights and the fishing.
The water seems less crowded. I'm guessing many have shifted to their hunting activities, at least that my speculation. It also could be the headline hatches have ended. Either way, I enjoy a day on the river without the crowds.
Dry Fly Action:
Hatches will come off on warm days without a lot of weather. Mainly blue winged olive. You want to arm yourself with several patterns in the 18-24 size range. You really want to pack multiple sizes as the trout will key in not only on pattern, but size as well.
There still will be terrestrial activity unless you've gotten a hard frost. As soon as that hard frost hits, the terrestrial activity is done with. I shift gears to Beatles and ants. Stimulators work too. I have my best luck with green or olive. Purple is a good choice too.
In some areas of the country, there's an October caddis hatch. If you live in these areas, of course you want the pattern and some orange stimulators for prospecting.
Below is a list of the Top Flies for Fall Fly Fishing
Remember, fall rivers are typically low, slow, and clear. They have been fished hard all year long. The name of the game here is size down on your leader and tippet to 6X or 7X and don't fish anything less than 9'. Consider going to 12' if you can get a good presentation. The trout are not going to tolerate many mistakes.
Trout have been pounded all year and they won't tolerate a fly line (or even a leader butt) falling on their heads. You won't have much luck with a 9-foot leader—you're much better off with a 12-footer or even a 15-footer for slower pools.
Streamers!
Don't leave that streamer rod home either. The fall has some great streamer fishing. The water temps have cooled to a great range this time of year, the fish are perked up, and super aggressive. I like to use crawfish imitation like the autumn splendor or realistic craw up until the water temps hit 50 degrees. At 50 degrees, the mud bugs begin to burrow for the year. At 45 degrees, there's also no crawfish activity.
Baitfish patterns work well too. I use smaller patterns this time of year for a few reasons. The springs spawn is maturing. They fry stage lasts about 60 days. While certainly not the size of an adult, they are respectable forage for hungry trout.
The other reason I size down is presentation. The trout aren't going to be as forgiving. Use a streamer that you can slip into the water. Sparkle minnows work great for this type of fishing. I leave the big articulated stuff in the box.
Wade Carefully
Brown trout spall in the fall. Watch out for the reds.
That's it for now my fishy friends. Please remember, pack it in, pack it out.