Sidebar
A Beginners Guide to Fishing for Pike
Fly fishing for Pike is becoming ever more popular each year. They are an exciting fish to catch on the fly. They are abundant and wide spread throughout North America. Many fly fisherman start out fishing for trout, and then branch out into other species.
In fly fishing for Pike, you're really not going to be able to use your trout gear. You may be able to get away with your 6 weight streamer rod on smaller fish, but you're really going to need to gear up once you get into it.
The Gear
Rods
Most serious Pike fisherman pack 8 weight and 10 weight rods. Pike can get huge, like 30 pounds huge. Pike are toothy, you're going to need to use wire, and you're just not going to be able to power that with a lighter weight rod. Start out with an 8 weight, and then see how she rolls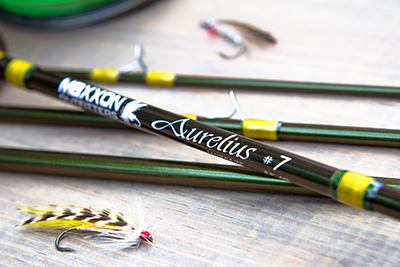 Reels
Drag is going to be most important aspect for your reel. You'll be playing the fish on it, so invest in it wisely. The reel isn't just a line holder like most trout fishing reels.
Lines
There are tons of specialty lines out there. The big thing you want to make sure of is that you get a shorter taper line that can turn over big flies. I actually like SA's tarpon line believe it or not. If you're on a budget or just starting out, the Mastery Grand Slam will work for ya.
Leaders
Use tuff fluorocarbon for the leader with a length of wire trace tied on the end. There are many different wire traces available and anglers have their own preference as to what they enjoy using.
Use a leader of between 3 foot and 5 feet depending on how well you are turning over your fly. The shorter the leader, the easier it will be to cast however the longer the leader the less likely to spook the fish
Where are the Pike at?
Pike are very versatile. They can be found in rivers, lakes, ponds…all over. They can tolerate warm water and can be found prowling under ice in northern climates. Pike are ambush predators, much like bass. I bet if you gear fished for bass growing up, you caught some pike. The same principles apply….weed beds, stumps, logs….and kind of structure that makes a good ambush point.
Now the flies.....
You need a selection of natural pike fly patterns that imitate baitfish natural to their surrounds. Shad, perch, and sunfish are all dietary staple. Similar to bass fishing, bright and loud patterns work as well. such as roach & perch as well as some bright loud patterns. Below are a few of my favorites.
You can find a huge selection of Pike Flies on our site. Musky Flies also work well when you are targeting larger fish. When I first started out, I started on an 8 weight set up. I think this is a good way to go, especially if you're transitioning from trout. A 10 weight is a big heavy stick, and people can find the transition uncomfortable. I've highlighted a few Maxxon products here. Simply, I like them, and they are great value, great quality and perform well. I can buy 3 complete outfits for the price of one high end rods.
That's it for now my fishy friends! Until next time....
Tight Lines and Screaming Drags