Sidebar
Winter Clean Up and a Good Pot of Gumbo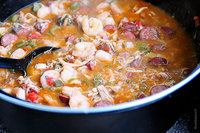 It's cold, snowy, and you're just dreaming of the next time you can get on the water. I get it. There's still plenty you can do to maximize your time on the water. My typical approach is to first get a pot of gumbo going. It's a very necessary requirement. A proper gumbo will take a day to incorporate all the flavors and get some tasty goodness going and tastes even better the next day. Shrimp and Andouille Sausage is my go to. It's a perfect accompaniment for the days activities.
Clean Your Line
So many people overlook this step. I break out all my reels. I naturally start with ones I use most. I use some line dressing and clean those lines up. Depending on how many reels you have, this can be a time consuming process....that's why for me, it starts with the gumbo. It really shouldn't take you any more that 15 minutes to go through a line. That's about it, you spend between $80-$100 on your line. Why not spend 15 minutes and a few bucks on cleaner to get more use out of it.
Organize your vest or pack
If you're anything like me, you end up concentrating on fishing while you're fishing. Go figure. Cleaning and organizing takes a back seat. Well, now is the the time. I take an inventory of what I have and what I need. I always try to stock up on leaders, tippets, floatant, and whatever other extras during the winter so that I'll be ready to go when the fishing picks up again.
Organize your fly boxes
Winter is a great time to look at what you have and what you need. I like to make a master list according to what I'll need first and then cross off those flies as I get them back into my boxes. For example, I'd start with midges for late winter, then blue winged olives , stoneflies, adams, or Spring, and so on. This way I don't have to buy all at once. I always make sure I have an assortment of nymphs, emergers, and adult dry flies for every hatch I'm likely to encounter.
Nothing is as frustrating as being out on the river surrounded by feeding fish and just not having the right bugs. I've been there. I was on the Coeur d'Alene river early last summer and the trout were absolutely devouring green drake emergers......and guess who didn't have any? There's also nothing better than checking out what new flies are out there.
If you like throwing meat, go through your streamers, there really isn't much of an off season. Make sure they are in good shape, and restock.
Organize your bags.
My fly fishing bag is the receptacle for all kinds of things. I'm scared thinking about it right now. I'm just hoping there's no sandwich still in there! Give it a good go through, take an inventory of your stuff. I'm doubting the sandwich is still any good, not even for the dog. You might want to pitch it. It'd probably be time to wash the left over close too. Early spring fishing can bring some pretty broad temperature swings. Make sure you have all of the clothing layers you'll need. Give your wading boots andwaders a through inspection as well. Spring water temps can be a bit chilly!
You'd be surprised how much a little organizing now will help out when you are able to get back out on the river. Even more, your reward is a nice steaming bowl of gumbo after a long day of organizing to will knock the winter chill right off and maybe a nice glass of a single malt scotch. Well, I know what I'm doing this weekend.