Sidebar
​Wild Trout vs. Hatchery Trout
I moved from Washington State to Pennsylvania not too long ago. The differences between the two states is striking when it comes to trout fishing. Pennsylvania stocks a lot of trout. So, why not a bit of a chat on the differences between stockies and natives?
The discussion of the differences between hatchery and wild trout is a dialogue that's gone on for years. Given my recent exposure to so many hatchery trout, I thought I share a few observations. Since I mainly river fish, my observations are obviously based on fly fishing local rivers. If I get more into Stillwater fishing, I'll be sure to let ya know.
It takes a good month for a hatchery trout to orientate themselves right after being stocked. There's really no patterns of behavior here, or frankly too much of a challenge catching them. Something flashy or an egg pattern and you're good to go. After a month or so, that's a different story.
Wild trout have lived in a river their entire lives. They know how to conserve their energy by picking specific locations in the river that have reduced flows, provide oxygen, and of course food. Quick access to cover to avoid predation and you've got a real fishy spot. In this way, it's a pretty easy read for a trout fisherman to target spots to fish. They are predicable. For stockies, not so much.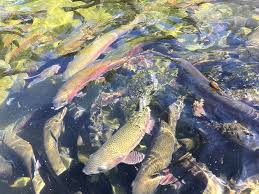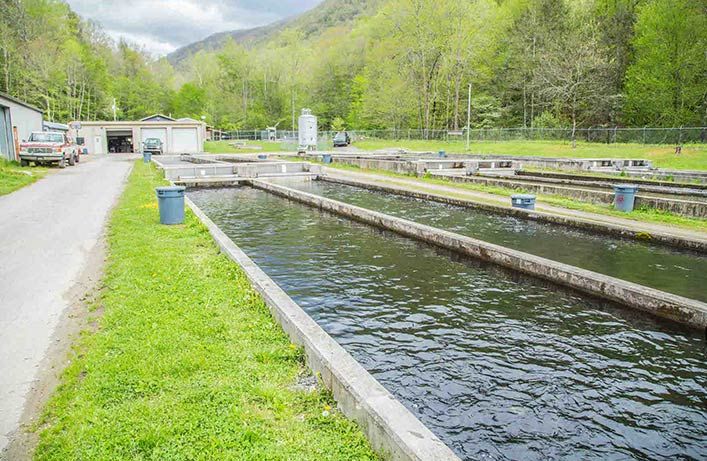 I have found that hatchery fish can be in many locations. Because they are less aware of natural predators and how to feed efficiently you often want to fish in a broader range of water. Hatchery fish are known to over extend energy when feeding so they can often be found in the middle of faster runs or in still water that is not as close to a natural supply of food. While they are getting a supply of food that is adequate for survival, they lack the instinct for energy conservation, predator avoiding, and efficiency of feeding. They dumb.
But, not so dumb that they are easy to catch. In fact, after the first month or so, just the opposite holds true. Hatchery trout can be more selective in food choices. Seriously. Why? Think about it. They've grown up eating ONE food source. They key in on ONE to provide their nourishment. Wild trout have grown up opportunist. LESS selective. I have had success with very small natural flies in established stocked streams. While in wild streams, you'll catch fish on Stimi's, nymphs….mouse patterns etc.
Your best success on a heavily stocked stream is going to be with small pheasant tails, soft hackles, and hare's ears on light leaders and tippet. It seems with hatchery fish there are very specific flies they are looking for and the bite can turn on and off with the change of a fly. When you find one that's working, stick with it.
I far prefer catching wild fish. I don't find the fight any different. I just find them prettier and the whole experience a bit more enjoyable immersing myself into the wild nature of where the natives live. However, that's not always an option. Hatchery fish present their own challenges in their own unique way. That's it for now my fishy friends…..until next time
Tight Lines and Screaming Drags