Sidebar
​Surfperch, Fly Fishing the Surf
When it comes to fly fishing the Pacific shoreline, it can seem pretty intimidating and most of the time it is. But you know as well as I, that fly guys/gals don't give up that easy and are willing to accept a good challenge.
Us beach chargers don't have the use of electronics or the comfort of a boat and are constantly battling the waves and tides that try their hardest to knock us down. However, we make the best of it and if we stay on our toes the experience can be a lot more enjoyable.
Surf Tips for Success
There are a few things to consider before hitting the sand that can help lead to a successful beach session.
First things first, don't wade in too far so that you're "in over your head". Safety is a big concern when fishing the ocean and knowing your own boundaries is always wise. This environment is constantly changing and thus you need to change with it.
When I first started to tackle the beach, I would attempt to send these "bomb" casts out as far as I could. Two things would happen:
1. I would wear myself out after the first hour
2. I would end up wading too far out, getting caught off guard from an incoming wave which would leave me tumbling around like a sand crab
As time went on, I started to notice the fish I was targeting, Surfperch, were right at my feet and the long casts were unnecessary.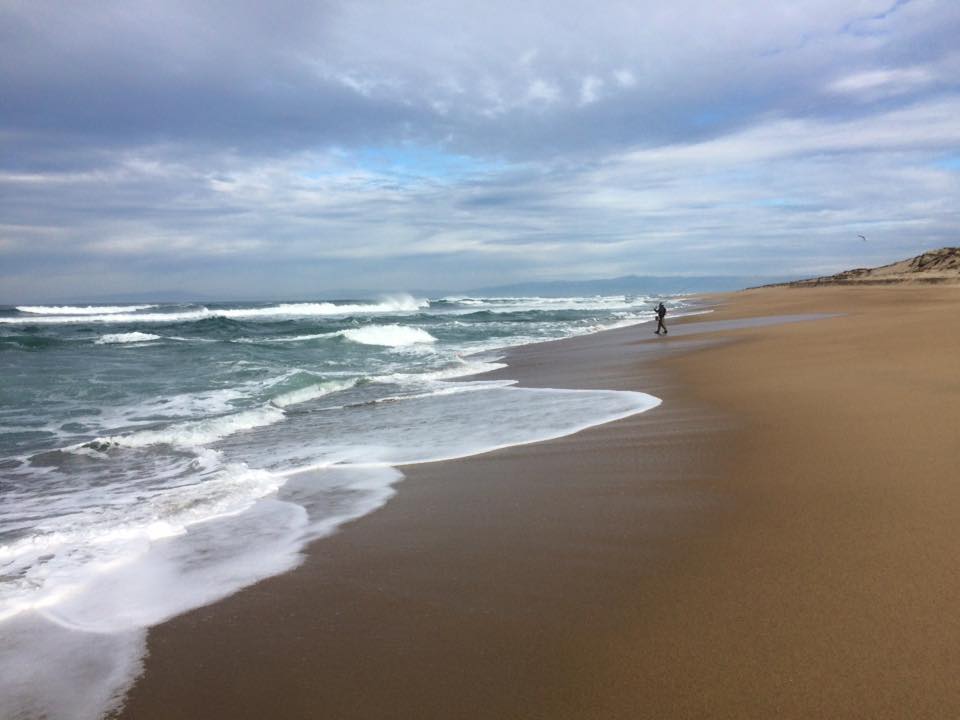 I feel this applies to a lot of the water people fish. Remember to take your time, approach slow, and have somewhat of a game plan.
What to Look For When Surf Fly Fishing
One of the first things I look for when I step onto the beach are birds.
Birds can be a great indicator of where fish may be holding since they are after the same food the perch are, or after the perch themselves.
Another thing to look for is what I call "dirty water."
As the wave's crash and move in and out with the changing tides, horizontal trenches and pockets are formed in the splash zone causing the sand to get churned up. This stains the waves with a chocolate milk color and indicates where the fish may be holding and hunting for food. Sometimes it really helps to think like a fish. Since the beach does not offer much for structure or cover, these trenches are the only options for the perch. As the tide changes the perch's favorite food dislodges itself from its sandy home and drifts with the waves in order to stay in the white wash.
Yes, I'm talking about the sand crabs! Sand fleas, mole crabs, or commonly called sand crabs are the main food source for Surfperch.
As a kid I would venture out to the beach and collect as many as I could, put them in my bucket, and release them into my makeshift sandcastle moats with excitement. Who would have thought twenty-five plus year later I would find myself just as excited to find these critters?
Fly Patterns
Luckily for us, Surfperch are not picky eaters and will gladly take a well-presented attractive fly. I just happen to have the best luck when I fish a pattern that includes red or hot orange, possibly because it mimics the color of the sand crab's eggs.
Surf Fishing Gear
By far the most important piece of gear you will need is a stripping basket. Line management plays a big role in the surf and can mean the difference between a successful day, and the big skunk.
Another good tip is to always stay in contact with your fly, the take from perch can happen fast and you might be passing up fish without even knowing.
So if you live near the coast, or plan on traveling soon, don't leave the rod at home. Anything above a 5wt will work in the surf, and if you google search stripping baskets there are many "make it yourself" videos to save a buck.
Just remember to take it slow and have fun, oh and don't forget the sunscreen.