Sidebar
Northeast Striper Fishing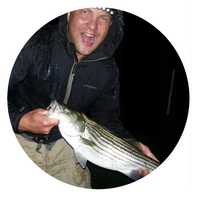 Striped Bass
Here in the northeast if you live near the shore, the big season for fishing is about to begin. All of our native salt water fish will be migrating back to their spawning waters and the fishing from mid-April to December becomes unbelievable.
The Striped Bass are the most popular fish here in the northeast to catch in salt water. They go up rivers into brackish lakes and many other estuaries, always moving with tides and chasing the different bait they feed on.
Fishing with 8wt 9ft and 10wt 9ft rods and using bait fish patterns, shrimp, eel, and the famous Cinder Worm hatch are the most effective way of catching these beautiful fish.
Night Fishing Means Listening for Fish
Fishing at night using moon light to see, exploring and finding boat docks, canals and finding some great structure screams success. Since you fish for them at night, you cannot sight fish - so your hearing becomes very critical to locate the distance and location of the fishing moving through.
Now you're asking yourself, "listen to what?!?"
Fish will nearly break the surface chasing their prey - at which point they make a sound like someone just dropped a boulder in the water.
Big down side is you cannot fish for them like a rising trout. These fish are on the move. Quick casting and double hauling is a must. Carrying two spools is essential. There are times when floating line is you best option, and others where an intermediate line is the key. It depends on the baitfish and where in the water column their holding and what structure they are gravitating towards.
Scout During Low Tide
When scouting prospective spots, it's critical to go check and do your searching during low tide. Low tide lets you see the bottoms and structure that might be underwater that you don't see at high tide.
Fishing for these beautiful fish at night gives a surreal element to the experience. While not required, that's the way I find most effective. Without a boat to drop in the water during the day, at nighttime, the fish move closer to areas where I can reach them from shore.
Not a Night Fishing Guy?
Other ways to catch striped bass include hitting the beach early before sun up and fish near jetties on the beach.
Lots of anglers take dangerous chances getting on the jetties themselves and wading through the surf to that sand bar to reach the blitzing fish past anyone's cast.
If you have the access to a boat to take it out on the ocean you have a great chance to catch these gorgeous fish. Two big benefits to using a boat: fish finder and you can cover 10's of miles a day.
Personally, I feel a boat takes the fun out of it, though. An active Northeast fisherman like myself will fish the beach in the morning, moving to the estuaries in the early evening and at night fish the rivers and canals.
Get out there some time and try Northeast striper fishing.
These fish are big, strong, and incredible to catch!
Cheers, George