Sidebar
Greg Morgan: RiverBum Pro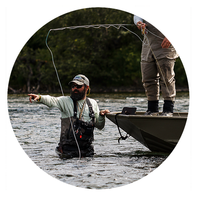 It is with great pleasure that I'd like to announce that Greg Morgan has joined the RiverBum family.
Greg is passionate about the sport of fly fishing, and bringing it to people from all walks of life. When he was young, he spent at his grandparents' house on the pan-handle of Florida, Greg's first experience with a fly rod was casting poppers to pan fish, but quickly moved to largemouth bass and various saltwater species. At the age of 22 when he moved to Colorado, where he realized his passion for fly fishing for various species of trout. Since then, this passion has grown and now he loves to target any species that swims and has scales; scales being optional.
With a passion for travel, adventure and fly fishing, Greg has traveled to and fished many exotic locations. He has enjoyed angling in over 13 countries targeting many different species with a fly rod. The list includes Botswana (where he lived for approx. 2 years) for Tiger fish, Mozambique for King Fish, and Chilean Patagonia for monster Brown and Rainbow Trout among many others. The list of countries continues to grow.
Greg has spread his love of adventure and travel to encompass Alaska where he spends the summer months guiding the Bristol Bay Region for everything from Trophy Rainbow trout to Dolly Varden to Sockeye and Silver Salmon etc.
During the off season the Chattahoochee Tailwater and North Georgia waters are where he spends his days guiding. Both waters offer a very unique fishing experience and should not be missed.
"More than anything, I enjoy sharing the outdoor experience and helping beginner and intermediate anglers, along with young people, experience fly fishing. It is an incredible feeling to help people have a great day on the river! I love my home waters of the Chattahoochee and miss it immensely when not on it." If not guiding, you more than likely can find him either planning out his next adventure.