Sidebar
Fly Fishing With Your Child
Summer is right around the corner. The kids will be out of school and outdoor activities are going to be plentiful to all. It's a great chance to introduce our children to the sport of fly fishing.
I've taught my oldest daughter, Madison, to fly fish with some fairly good success. She's getting out of the sport what I hoped she would. I will be teaching my youngest, Olivia, this year and practicing a couple of things I learned along the way with Maddie.
Goals
I find it helpful to keep in mind what the goals are. For me, it's:
start the basics of the sport
develop a respect for the outdoors
quality dad/daughter time
I'm a safety first guy, so I believe that your children should be good swimmers prior to getting on the water. Maddie was a great swimmer from the start, we started fishing together when she was 7. Olivia has not been as strong. She'll be coming out with me this year at age 9. As a parent, you have to be the judge here.
Casting Practice
I always start with fly casting instruction on the lawn. I have them use the fly rod that they'll be using on the lawn, and I rig up a demo rod for myself. I've found that if I show them with my fly fishing rod and them to mimic with theirs its very effective. If I try to show them with theirs, give them the rod, take it away to show them again, and then back, they lose interest and get discouraged. I made this mistake with Maddie. When I would take the rod from here and say here let me show you it was more of a punishment by taking the rod away, than instruction.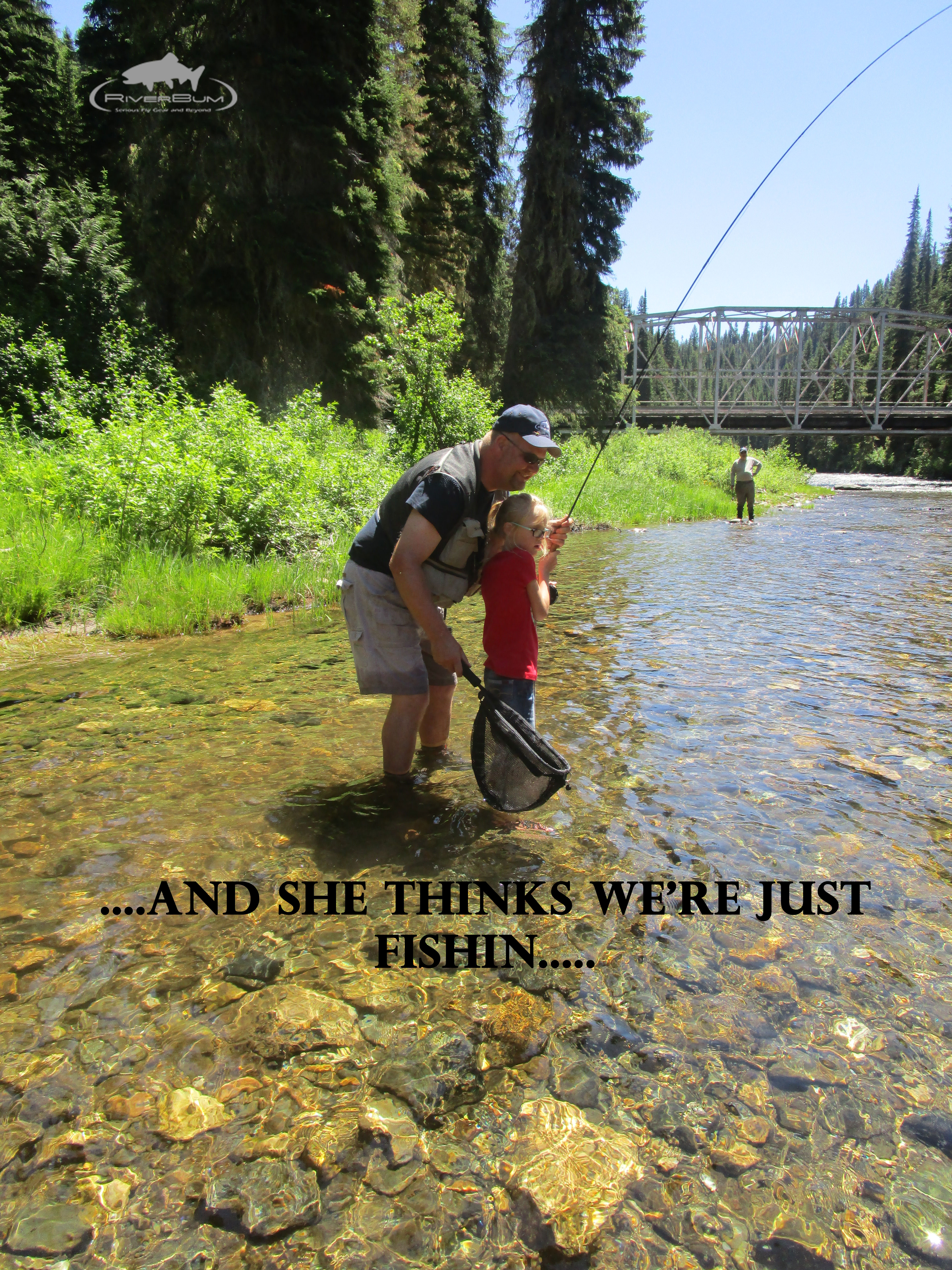 Just do the basic overhead cast and roll cast. Encourage them to watch the line to see what it is doing.
I also have them in 8 ½' 5W rods. It's a rod they'll use for years to come, adaptable to any situation really, and it's long enough to load up. With that in mind, it's a full flex rod also and I rigged up with 6 weight line. This will let the rod load very easily and let the line turn over nicely for a novice.
I'd stay away from the short rods for kids. It's counter intuitive, but you want them to feel the load of the rod and to get timing down. You just don't get that with a short rod.
On The River
When you hit the river, LEAVE YOUR ROD IN THE CASE. It's not going to be fun for your kid for you to be catching fish and them not.
Work together to catch a fish. Be make sure you're giving them your full attention so you can instruct them. You can't do this if you're fishing too. This is a big lesson learned here for me. Trust me on this one. Maddie got frustrated watching me catch fish, and she couldn't catch a cold. Even though I was letting her take them in, she knew very well that "she" wasn't really catching them. Kids are smart, sometime smarter than we think.
I put the rod away, focused on her only and things turned around. There is nothing like seeing the joy on your child's face when the hook and land their first fish. It is sheer magic.
Make It Fun for Them
The chances that you're going to be out on the water from the break of dawn to an hour past sunset are slim to none. Understand that you'll be lucky to get a couple of hours in. Pack a picnic lunch and some hiking shoes. They are going to want to do something besides fishing. I just make an outdoor activity of it. We fish, hike, pick up trash along the river, skip stones etc.
Speaking of picking up trash….unfortunately I always find trash when I go fishing. I teach my kids respect for the outdoors by picking it up. While what we do is not going to change others behavior, it insures that my children don't become contributors to it. It's an activity we always do. They learn real quickly to pack it in and pack it out, and that they can contribute and leave things better than what they found it.