Sidebar
Expanding the RiverBum Community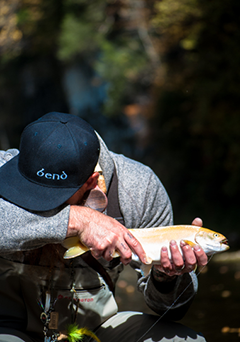 Brotherhood of the Bend
Opening the sport of fly fishing to all is one of our greatest passions at RiverBum. We want women, kids, and fly fishers of all skill levels to get out there on the water and enjoy the relaxing and exciting sport of fly fishing. Starting with a pro and ambassador staff that give us insights to the fishing reports and trends all over the world.
We continually get updates on where the best fishing is during any given time of the year, which parts of the country are best if you're bringing the family, and where to go if you want to get away from absolutely everyone else. Our goal is to help get you on the water to enjoy this great sport.
We are also committed to offering a wide range of price points. If you're a beginner, you don't need the most expensive rod we offer. If you're a pro, we offer the very best gear to suit what fishing need you have. Everything we do is focused on bringing people to the outdoors and the sport of fly fishing.
With all of this, you have to imagine it takes more than our staff in Spokane, Washington. We've not only invited in pros and ambassadors all over the world, but friends and fellow fly fishing enthusiasts.



To that end, we want you to meet Brotherhood Of The Bend. The BrotherHood's mission is to bring knowledge and enthusiasm to the sport of fly fishing. Jared and Rich spend every free moment fishing and blogging, and are committed to partnering only with companies that have exceptional ethical standards, that are passionate about bringing the sport to all, and to improve people's quality of life through the sport we all love.
| | |
| --- | --- |
| | |

Brotherhood Of the Bend and RiverBum will be working together to bring more content to the market, more product reviews, and more about the sport. They bring over 30 years of experience to the table…that's a lot of fish! We've asked BOTB to fairly evaluate all of products and provide feedback. We know they'll give us fair and honest evaluations and we've asked them to share that with you, our customers. They are not paid to endorse our product. We do this so you can make the best decisions about which fly fishing products to purchase, and ultimately so you can spend less time online and more time on the water.
We couldn't be more thrilled to be welcoming Brotherhood Of The Bend to the RiverBum family.
As always….
Tight Lines and Screaming Drags