Sidebar
​Choosing a fly rod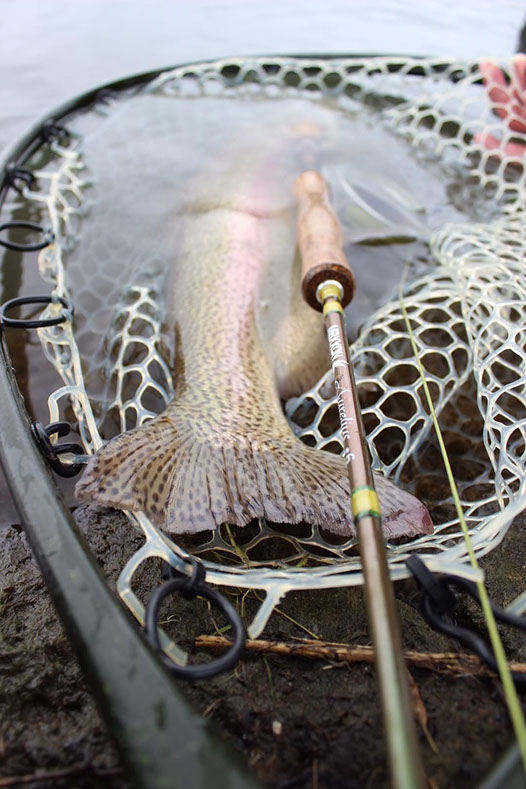 I remember when I went to get my first fly rod, I was given the advice, buy a 9' 5W and buy the best one you can afford, it's really the only rod you'll ever need.
I was chatting with Steve Bensley of Maxxon recently and of course the topic of fly rods came up and I recalled this advice. We chuckled that fly rods are akin to golf clubs, you don't just own a driver and a putter. At this point in time, I'm well into more than a dozen fly rods.
That 8 1/2' 5Wt rod….rarely gets used these days. I refer to it as my utility rod. I take it to go exploring rods I'm not familiar with or when I'm on a business trip and I can get in a couple of hours in the evening. So what rods do I use?
What are you fishing for?
It's entirely situational. You need to start with what fish you are going for, and the type of fishing you'll do. If I'm on a larger river casting dries for trout, nothing beats 9'4W with medium to full action. Why this particular action? Hook set. Many folks will put the fly right out of the fish's mouth (guilty as charged). The softer action helps compensate for this. This rod; however, would make a terrible streamer rod. You want a faster action rod capable of turning over bigger and heavier flies.
What I've done, quite by accident, over the years is match up my rigs to the species and style of fishing I'm doing. I think if you start with that, you'll be in good shape and won't waste money of rods you rarely use.
Here's a good guide:
Species
Rod
Top Flies

General Freshwater

Weight: 4/5/6/7
Length: 8′ – 9.5′
Dries, Wet Flies, Nymphs,
Terrestrials, Streamers

Trout

Weight: 4/5/6
Length: 8′ – 9′
Dries, Wet Flies,
Nymphs, Streamers

Panfish

Weight: 4/5/6
Length: 8′ – 9′
Small Poppers, Nymphs,
Terrestrials, Streamers

Bass

Weight: 7/8/9
Length: 8.5′ – 9.5′
Large Poppers,
Deceivers

Pike

Weight: 8/9/10
Length: 8.5′ – 9.5′
Large Specialty Pike Flies,
Large Poppers, Divers

Salmon

Weight: 7/8/9
Length: 8.5′ – 9.5′
Streamers,
Nymphs, Eggs

Steelhead

Weight: 8/9/10
Length: 9′ – 10′
Streamers,
Nymphs, Eggs

General Saltwater

Weight: 7/8/9/10
Length: 8.5′ – 9.5′
Crazy Charlies, Crabs,
Shrimp, Deceivers, Minnows

Striped Bass

Weight: 8/9/10
Length: 8.5′ – 9.5′
Deceivers,
Deep Minnows

Bonefish

Weight: 8/9/10
Length: 8.5′ – 9.5′
Crabs, Crazy Charlies,
Deceivers, Minnows

Tarpon

Weight: 9/10/11/12
Length: 9′
Large Saltwater
Poppers, Minnows

Billfish

Weight: 12/13/14/15
Length: 9′
Large Specialty Billfish Flies,
Large Saltwater Poppers
What action do you need?
Firstly, just what is "action". Action refers to the stiffness of the rod or its overall flexibility. Generally speaking, there are three types of action. (See Diagram)
1. Fast Action or Tip-Flex Fly Rods

Fast-action or tip-flex fly rod has the greatest stiffness and the least flexibility
It is great for casting long distances, powering streamers, and for fishing in the wind.
Fast action rods aren't typically for beginners. It's harder to pick up the rod load. It's also not idea for casting short distances or working small water
Fast action rods make great streamer rods, larger fish rods, and a rod to use in the wind.

2. Medium-Action of Mid-Flex Fly Rods

This is the utility rod. They perform reasonably well in many scenarios. This is the "if I was only going to have one rod with me rod".
The pros of this action are its versatility
The cons are that it's good in a lot of situations, just not ideal.
I like a medium action rod for dry fly fishing larger water systems.

3. Slow-Action or Full-Flex Fly Rods

Slow action rods are very flexible. The flexible action makes it ideal for casting shorter distances on smaller bodies of water. I have 2wt and 3wt rods that I use on small creeks and tribs and also use it for panfish.
Pros are casting short distances, great action, and fantastic for a beginner to feel rod load.
Cons are you're not going to be able to handle large fish as a rule of thumb.
These rods can be tons of fun on small creeks and are ideal for the beginner or kids.
Rod Length
Your rod length is going to match up with what you're fishing for and how you are fishing.
The 8' or less is great for shorter distances where greater precision and stealth is involved. These are the creek fishing rods.
The 8 ½' rod is a good utility length. This rod length would be suitable for most conditions.
A 9' rod is great for most situations. It can handle a wide variety of situations, is good in the wind, and can cast greater distances.
Rods 10' and larger fall into generally three categories. Your single-handed rods are normally used as tight lining rods. There are also spey and switch rods that are longer in length that are generally used for steelhead and salmon fishing. There's way more material on those topics that can be covered here.
Please remember….pack it in, pack it out
Tight Lines and Screaming Drags